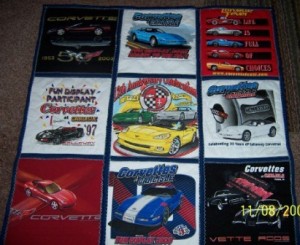 I love quilt stories and Judy sent me hers: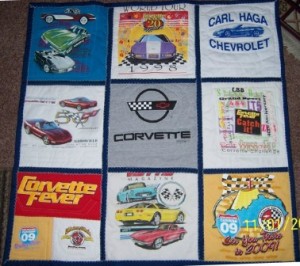 Here are pictures of the two quilts I made using your quilting method with tee shirts that club members gave me. The two pictures with the yellow corvette in the center is the one Bob won and we donated to the National Corvette Museum in Bowling Green, KY. The other is also made by your method and won by a club member. I made these two quilts an three afghans, which we raffled off at our club picnic. We raised $245. that day and Bob, husband, added another $5. The club matched the money and we donated $500. to our local Ronald McDonald House in Danville, PA. Your method worked very well for this project and everyone loved the quilts. If you happen to get to Bowling Green and stop at the museum, I hope they have it displayed somewhere for you to see. If we ever get to Alaska, we'll look you up! I'd love to meet you and your videos are great too by the way. Judy
I also added two quilts to the Gallery – one from Jan and one from Jennifer and both just gorgeous!