We are a mother and daughter team – Marguerita McManus (mom) and Sarah Raffuse (daughter) together created the quilts and wrote the book. We both live in Alaska, USA and have been quilters for many years. We both love to teach, travel and show off whenever possible. Please contact us if we can teach, entertain and show off for you!
Sarah was born and raised in Anchorage, Alaska, USA and she started quilting as a teenager when she was hired by Karen Tomczak at Quilt Works. Under Karen's encouragement Sarah learned to quilt, sew, teach and she eventually attended Quilt Markets in Houston and Portland.
Sarah graduated from Robert Service High School in 2000 and married her sweetheart, Ryan Raffuse in September 2003. In September 2006 they welcomed to the world their daughter, Audrey and in June, 2011 Violet joined the family.
Sarah enjoys being home with Audrey and Violet, quilting and watching Maisey the bunny get used to having crawling babies in the house. Sarah blogs about quilting and more here. Ryan and his family own and operate their business Anchorage House of Hobbies.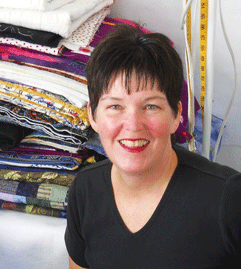 Marguerita was born & raised in New England, and spent some time as a youth living in Florida and traveling with her aunts Carol & Doris to Puerto Rico and across the entire continental United States by railroad. At age 19 she decided to move to Alaska, and she's been there ever since.
She loves traveling, writing, quilting, fishing, playing pool and playing with her many pet rabbits.
Marguerita has worked as a bookkeeper, bank teller and cashier, tax collector, administrative officer, payroll clerk, court clerk, recording clerk and commercial fisherman. She is now retired and traveling the USA and Alaska in her RV.
She's published quilt design patterns and was a professional longarm quilter for many years, with gratitude and thanks for encouraging that endeavor to Karen Tomczak, Dina Pappas and Trish Stuart.
Marguerita blogs about quilting, writing, Alaska and more, and she's coaching other craft book authors on self publishing, marketing and using video on her publishing site Loose Fibers Media.