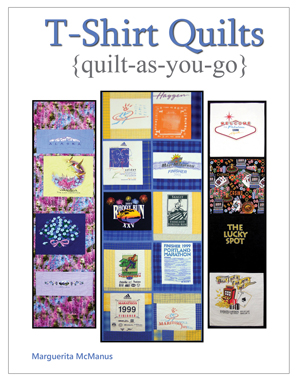 I've been working on this book for over two years and it's finally finished – yay! I tested stabilizers, added fabrics, played with machine quilting with a walking foot and did it all on four T-shirt quilts.
I put together some VIDEOS! There are four – one as an introduction, the next one on Planning & Preparation before even cutting your T-shirts, the next on stabilizers (and a fun little mistake I made) and the last one on cutting. I hope you find them useful. You can find the book for print or Kindle here – T-Shirt Quilts Book on Amazon

My quest started many years ago when friends Laura McDonell, Judy Simmons and Sara in Abu Dhabi contacted me with photos of their T-shirt and memory quilts that they made as quilt-as-you-go quilts using our joining method. They had all had made Crazy Shortcut quilts and immediately realized that they could use the same techniques to finish their quilts. Take a look at Judy's Corvette T-Shirt Quilts. When Nicky Lowitz (California) contacted me about a quilt she wanted to do with T-Shirts and I became convinced that I should give this a try.
I worked with some new Alaskan friends and my dear friend Penny Herndon (see below) and we all made T-shirt quilts. Wenonah Dodd made a special Harley Davidson quilt for her dad, Jonni Myrick worked with little girl T-shirts, Arteria McCummings raided her husband's collection of racy T's and Mary Pomery made a special wall hanging for her son to commemorate his graduation as a pilot.
Here are the quilts in the book and a little bit about each one:
Marilyn's Marathon T-Shirts Quilt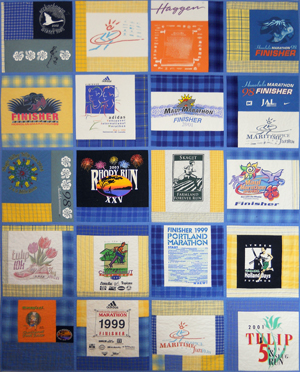 I started with my sister-in-law's collection of marathon t-shirts. When I spread her t's out I saw that they would not make a very large quilt so I decided to add some fabrics. This turned out to be one of the most fun quilts I've ever made! I LOVE scraps which is what I used for borders to her t-shirts. Sarah had a collection of softly woven fabrics in shades that matched Marilyn's t's perfectly. I slapped them on any-which-way and worried about size later. I just love how it turned out.








Las Vegas Quilt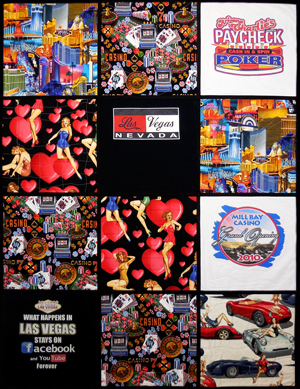 This one was a ball to make because I had to buy the T-shirts. I can tell you that very little compares to the fun I have digging through second-hand shops in Las Vegas. I had a blast. Check this one out – I put it on the back of the quilt.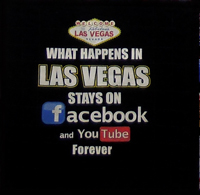 I love Las Vegas so I picked out shirts that reflected places I have been or know. Then I went shopping for gambling themed fabrics to use. I already had the "poster girl" fabrics and I was so happy to finally use them. These are not your average quilt type fabrics. I did the most basic quilting on these blocks, then flipped a few over so that the backing fabrics showed on the top of the quilt.
Alaskan Fireweed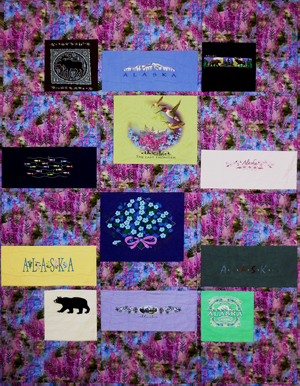 This is almost half fabric and half T-shirt but I love how the fabrics and T's blend so well. Fireweed is an interesting flower and it's such a familiar sight (and a great fabric) that it really makes this quilt feel like "home" for me.
This quilt uses the same fabrics for the joining strips and the borders attached to the T-shirts, making the joining strips blend in. I really like this technique and I use it often.










Penny's Ninilchik Quilt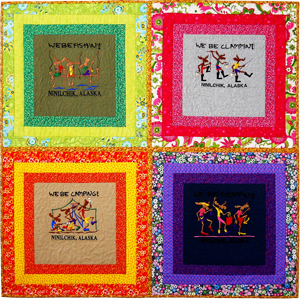 My long time friend Penny Herndon (Alaska) wanted to preserve her cherished Ninilchik (a small village on the Kenai Peninsula in Alaska) as a wallhanging. She loved the bright fabrics she'd been saving and found some that matched the thread colors of the embroidery that makes up the moose on the shirts. I quilted this using some free motion techniques and then did the joining with a bright but soft gold that my daughter Sarah helped pick out.






Work in Progress
Below is what my design wall looked like after the first cutting of Marilyn's shirts. Watch how it all came together. I love the combination of mixed fabrics and bright T-shirts!