We love the new modern quilt look. It's all about showing off your fabrics using simple designs. We also really love our way of making quilt as you go quilts.
I wanted to make modern looking quilts but still use our favorite quilt as you go techniques and I came up with a few different ways and Sarah helped test the designs by making some quilts.
There are only four quilt patterns in this 78 page book and each one comes together just a little bit differently, giving you just enough of a change to get your creative juices flowing!.
Simply Charming, featured on the cover, is a great quilt for large print fabrics and can be made completely reversible – same look, both sides.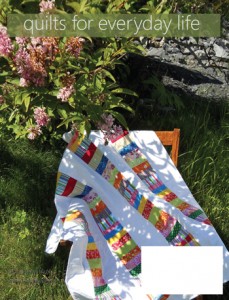 Aloha, featured on the back cover, is a great scrap strips or jelly roll quilt and sized perfectly for a child or baby.
Jelly Squares is our red and white jelly roll quilt that is featured in this blog post and video.
There are two colorways and sizes featured for Mod Quad, below.
If you are an expert at our quilt-as-you-go methods, from either Crazy Shortcut Quilts or Finish (almost) Any Quilt, you will quickly scan the text and photos for each quilt and yell "aha!" – it's just that easy. You'll also see a few updates in the joining section and some specifics in the trimming section, but most of the techniques (other than creating the blocks, obviously) is the same as the other two books.
If our quilt-as-you-go techniques are new to you – don't worry, the book covers everything from pressing to binding, with 111 photos to guide you, and I'm making some videos to go along with it.
What's fun is the innovation in block building (still unbelievably simple and fun) and in the joining strips (called Sashing in Crazy Shortcut Quilts). Just a few easy changes make them disappear, and that was the goal with this book.
The machine quilting is simple straight lines, grids and slightly wavy, curvy lines, all done with a walking foot or straight stitch foot, if you prefer. Nothing fancy, again, because the goal is to show off the fabric, not the quilting, and to maintain the simple, clean look.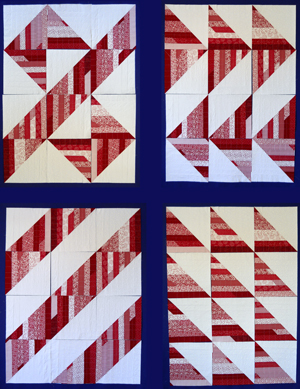 We love these designs and new techniques so much that we have a stack of projects in the works. Some exactly the same as the book, some with another small twist. The goal with this book was to keep it small, affordable, easy and to get the basic ideas out there to our quilting friends. Look for more in this style from us soon and thank you for stopping by to see what it's about.
Please come on over to our blog for conversation on quilts, home, and more…