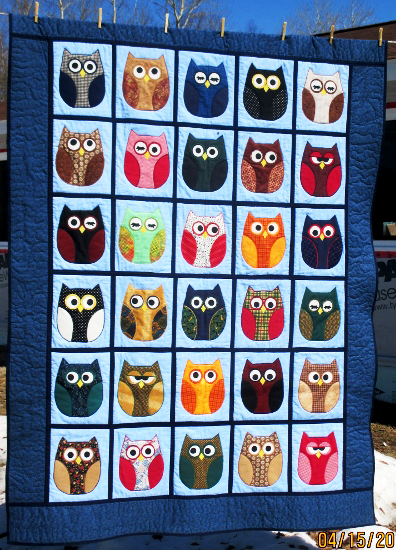 Sharon sent me a pic of her Owls Quilt – called Look Who's Been Sleeping in My Bed, by Susie C Shore Designs – that she adapted to be quilt-as-you-go, as shown in my book "Finish (almost) Any Quilt".
Here's the note Sharon sent:
Hi Marguerita,
I am attaching a photo of my recently finished project … using a pattern call "Look Who's Sleeping in my Bed!"
I put my own flair on it by individually appliqueing each of the blocks and then using the CSCQing methods for sashing & binding.
I free-motion quilted the borders, then attached also using the CSCQing method.

I was very happy, indeed, with the end result. Loved working on smaller blocks … then tying them altogether.
I purchased your book "Crazy Shortcut Quilts" a few years ago; the Owl Quilt is the 4th quilt I've made following your methods.
By a far cry from perfect but each one gets easier! Many thanks!!

That was such a fun quilt to make … Emoji
I sure was happy to have the benefit of the knowledge of the quilting techniques from your book (CSCQ) to bring it all together.

Sincerely,
Sharon (Nadeau)

PS … a birthday gift for my Grandson!