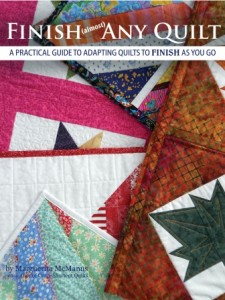 Finishing quilts is a big deal! The feeling of a finished quilt is like no other – not in your hands and not in your soul. The sense of accomplishment is deeply satisfying and your quilt will serve it's ultimate purpose: keeping someone warm and comforted.
My book shows you step-by-step how to take your favorite block pattern, quilt pattern, or unfinished quilt project, and adapt it to quilt-as-you-go so that it is easy to finish, right now.
Not all patterns are adaptable and it is important to know that. Bargello, tessellations, wedding ring and other interlocking patterns are not recommended for this process. However, there is a world of patterns that are adaptable and this book will show you how.



Applique blocks, pieced blocks, patterns that have sashing or inner borders, UFO's that can be re-worked, tee shirts and more are perfect projects for Finishing As You Go and our book will show you how.
You'll start by adding block borders – straight, built-in borders, wonky, on-point:

Then layer and quilt, using very easy techniques:
I show you how to put your binding on all by machine and then you can choose your next quilt to finish!
128 pages/147 photographs guide you through the process of turning your blocks into a finished quilt.
Available on Amazon.com in print and for the new Kindle Fire!