Inside Crazy Shortcut Quilts Book you will find the technique for "sloppy cutting" fat quarters or squares of yardage to create quilts that resemble old fashioned "crazy quilts".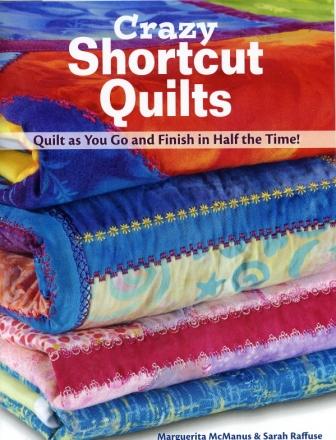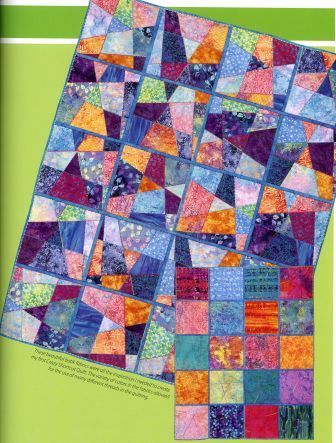 From there you'll experience using the decorative stitches of your sewing machine (it doesn't matter if you have 5 or 500) to do the quilting – – in small sections – -so that when your squares are quilted you are almost finished with your quilt!
New sewers and confident quilters love this book because it does not rely on traditional piecing methods used for block type quilts.
* No small bits of fabric (it's magic!)
* No precise patterns
* No templates
* (Almost) no precise cutting or precise sewing (1/4″ seams are optional 90% of the time) and each project teaches you how to create a finished quilt in hours!
The last step, joining your squares, is a simple process that doesn't have you fussy cutting your squares or whipstitching your batting – -just add the sashing strips as we describe and you will be finished before you know it.  We even show you a simple, easy machine binding and a few home decor projects that coordinate with your quilts.
With our advice on fabrics, threads and battings, you will get the most from your machine whether it's 20+ years old or brand new, and your machine does all the quilting – no free motion at all. Why try it? Because we are teaching you how to make a finished quilt……not just another top to stack in the closet.
* You don't have to learn how to "machine quilt" or "free motion quilt" and you won't have to struggle quilting a big quilt in a tiny sewing machine.
* You don't have to hire a quilter to finish your "top". You can say "I did it ALL" and you can have your quilt on display on your sofa or bed in hours!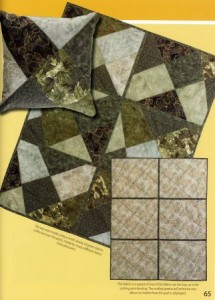 Here's a video demonstration of how it works:

Click here to watch more videos about Crazy Shortcut Quilting