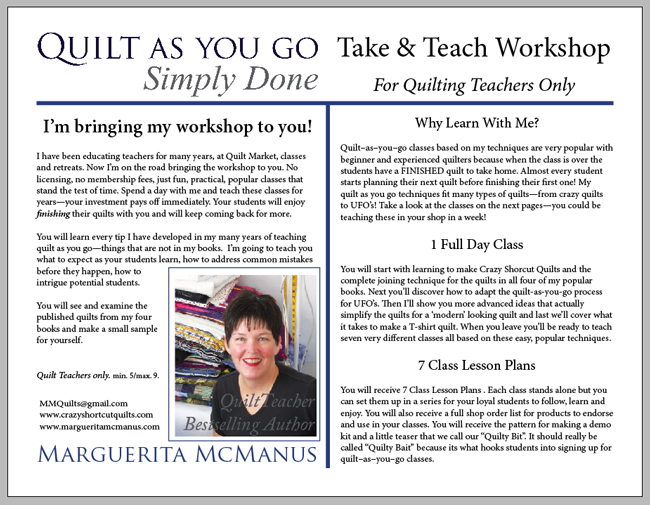 Quilters of all levels love quilt–as–you–go!
Teachers all over the US and Canada have had happy success teaching classes based on the techniques from my four different Quilt-As-You-Go books and I'd love to bring that success to your teachers. I have taught Quilt Teachers for years and I offer a one day "Take & Teach" workshop for experienced quilting teachers only.
1 day to learn the core for 7 classes! Classes that consistently fill up, year round, year after year.
Each teacher will receive a Teaching PDF Book and 7 lesson plans and could literally be teaching quilt-as-you-go classes within days of taking my Take & Teach. Each class has a different twist or technique. Loyal students will find the classes interesting as they follow the teacher and new students will be able to step into any class without ever having taken a prior class.
I recommend that two or three teachers come from each of your multiple locations to take my one day seminar, hosted in the store location of your choice. The cost is $75 per teacher—an investment that will pay off through years of classes. No membership fees, no licensing, no expenses. Simple and easy, just like my techniques. Experienced quilt teachers only, minimum 3 teachers/maximum 9 teachers.
I will be traveling in my RV throughout the winter of 2016-2017. The is a very limited time offer as I travel through the area. I don't offer Take & Teach classes often, but when I do they sell out quickly.
Let's get a quilt–as–you–go Take & Teach Workshop scheduled for your teachers!
Click here for a full brochure Download