"Lettuce All Be Berry Happy" is her name and below is Maggie-beth's quilt story: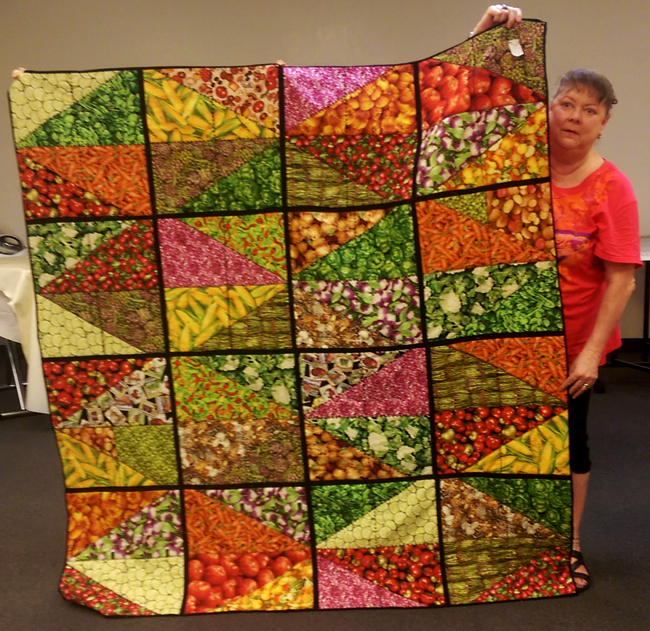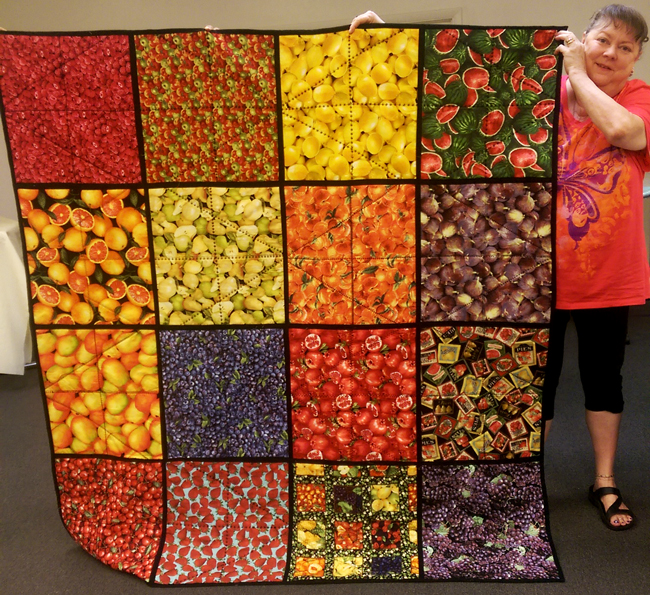 Hi Marguerita
At long last, the quilt I started after buying your book LAST SEPTEMBER – is done. And she's pretty, if I do say so as shouldn't.
Actually I finished her late last Wednesday night, but didn't get pictures of her taken until yesterday and today.
She was a BIG hit at the quilting group – and even people who work at the shop wanted to know all about YOUR version of quilt as you go. They have the book by that lady whose name happens to be "Cotton" – how nice for her! And the book is "Cotton Theory". I'm sure it's a lovely book, but I looked at it and was SO confused. Her diagrams look…well, never mind. I wish her well.
Anyway, apparently some of the people who work at the fabric store (quilters all), and everybody in my group – pretty much based their impressions on that book when it comes to quilt as you go. And were therefore uniformly surprised when I showed up with MY quilt. (Her name, by the way, is "Lettuce all be Berry Happy." and yes, for me quilts are either male or female. Just like ships. My first quilt is a male. I know. I'm nuts.) So, I have given your name to several employees and some from my group. Also the title of your books. I also suggested they find your youtube site, because I know that once they hear you talk, and watch your process, they will want to buy the books. It would be LOVELY if they also bought the books for your store, but I didn't push it. I suggested that they look at it with that in mind, but I did it gently.
The crazy cuts are all veggies. The back is all fruits. I turned the crazy-cut squares differently than your daughter did – to make large triangles in the middle. It works with these fabrics, I think – although I have other fabrics in mind that I will align as your daughter did, because her layout is quite dramatic. Mine were too busy for her pattern with this one, I thought.
I REALLY REALLY like this quilt! What do you think?
She has LOTS of flaws, but they don't show unless you look really closely, and even so, I don't care. Friends have asked me who I am giving her to. The answer is ME! I am NOT letting go of this bright, happy quilt! I smile every time I look at her, and that's the point, really, isn't it? She's taken pride of place on the back of the couch in the family room, right next to the kitchen, which is appropriate, considering her make-up.
My next project is going to be all violets – deep purples, greens, etc. I will take your 8-square quilt of diamond cuts and make it a 12 square.
Now – I need to say something else. Your emails have made me hope that we could be friends on some level. I know you live in Alaska, and I know that you are very busy – too busy to write regular emails. Still, it IS possible that you and your husband might visit Arizona again, and as lovely as Northern Arizona is, the rest of the state also has much to visit and admire. I am hoping that one day you could visit Phoenix – there is SO much here to enjoy – and also perhaps Tucson, Bisbee, Tombstone, the caverns, the bio-sphere, our little "wine country" area…there is LOTS to do if you would only give it a thought. I would be SO happy to meet you, and take you on tours of my area and "down south". So, it is my hope that we can stay in touch.
Sending huge thanks for walking me through the process, and more thanks for your suggestions about marketing John's book. We will need some of that help you offered to get him going with a youtube channel!
I hope you have a lovely weekend.
Best wishes,
Maggie-beth Rees