I love living in Alaska! I've lived here 35 years and traveled the state quite a bit, but I'm not done yet. There's just too much to see, from the islands of the Aleutian Chain (next year's trip, I've promised myself!) to the northern Arctic Wildlife Refuge to the islands of the south east panhandle. I've gone ocean kayaking in Prince William Sound, commercial fishing in the Gulf of Alaska and driven the Alaska-Canada Highway, many times. I've flown in jets, small planes, taken the ferry to many towns and driven many roads to explore this great state. Below, courtesy of Google, is Russia, Alaska and Canada, with a tiny bit of the Pacific Northwest USA in the lower right hand corner. The two pink dots are Anchorage and Seward and the yellow path is roughly the path I drove my RV this past year, heading toward Arizona and back north, to Alaska just a month ago.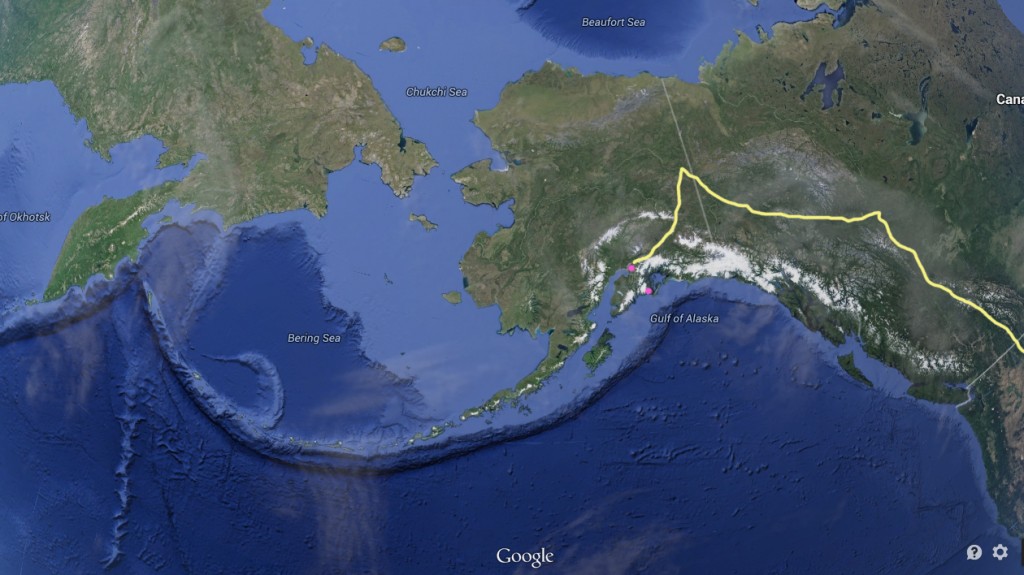 This is one of my favorite photos of Turnagain Arm, just south of Anchorage, along a road I've taken hundreds of times to get to Seward, Kenai, Soldotna, Homer or Seldovia. The Arm, like so many things in Alaska, is gorgeous to look at but can be deadly to the unwary.

As I get older I think more and more about sustainability for our world and our global economy and I love the fact that Clothworks, a company whose fabrics I've loved and used for years, is focused on creating their fabric here in the USA. When I traveled through Arizona I saw cotton fields and I often wondered if that cotton would someday be in fabric that I use to make a quilt. Clothworks is introducing their American Made Brand (AMB) cotton, which is from Arkansas (and possibly other locations), spun and woven in South Carolina (I really want to visit there!) and sold out of Seattle (I love Seattle too). I was invited by Candice at Clothworks to join in on her American Made Brand Debut Blog Tour of the United States.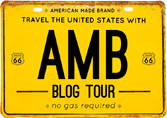 She asked 50 quilters and bloggers to participate and to create a quilt block based on their state license plate – what a cute idea!
Here's a pic of me, with my RV, and the RV license plate, which I used for the colors of my Alaska Quilt Block.

I took this opportunity to play with paper and pen (which I love doing) and then take some long overdue classes on using Adobe Illustrator.
Here's my first draft, in pen on tracing paper. I use tracing paper a lot so that I can keep design aspects I like (just trace over them with a new sheet of paper) and move, resize or discard the parts I don't like.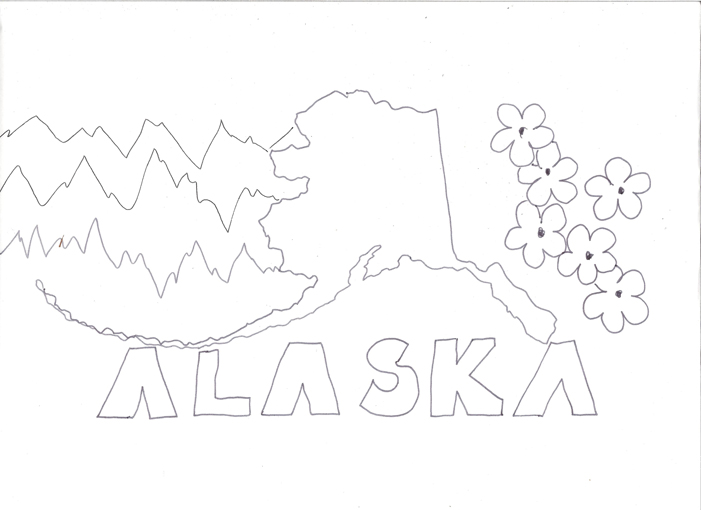 From there I started playing with color, matching the fabrics to the actual license plate and trying to decide on the color of the mountains. One of the things that I love the most about the mountains here is how close they are, and how beautiful they look when lined up against each other, fading gradually into the distance. This photo of the mountains in Seward, taken from the northern boat harbor, shows what I mean as the mountains go from dark in the foreground on the right, to faded on the left. The center has the two boats I worked on in 2003 and 2004, when I went commercial fishing for salmon.

I wanted the Alaska State Flower, the Forget-Me-Not, to be part of this block. It's a delightful shade between pale blue and periwinkle and it's a delicate, tiny blossom. I found these just down the street from where I'm parked in my RV this summer. Alaska is definitely a place you will never forget once you visit or live here.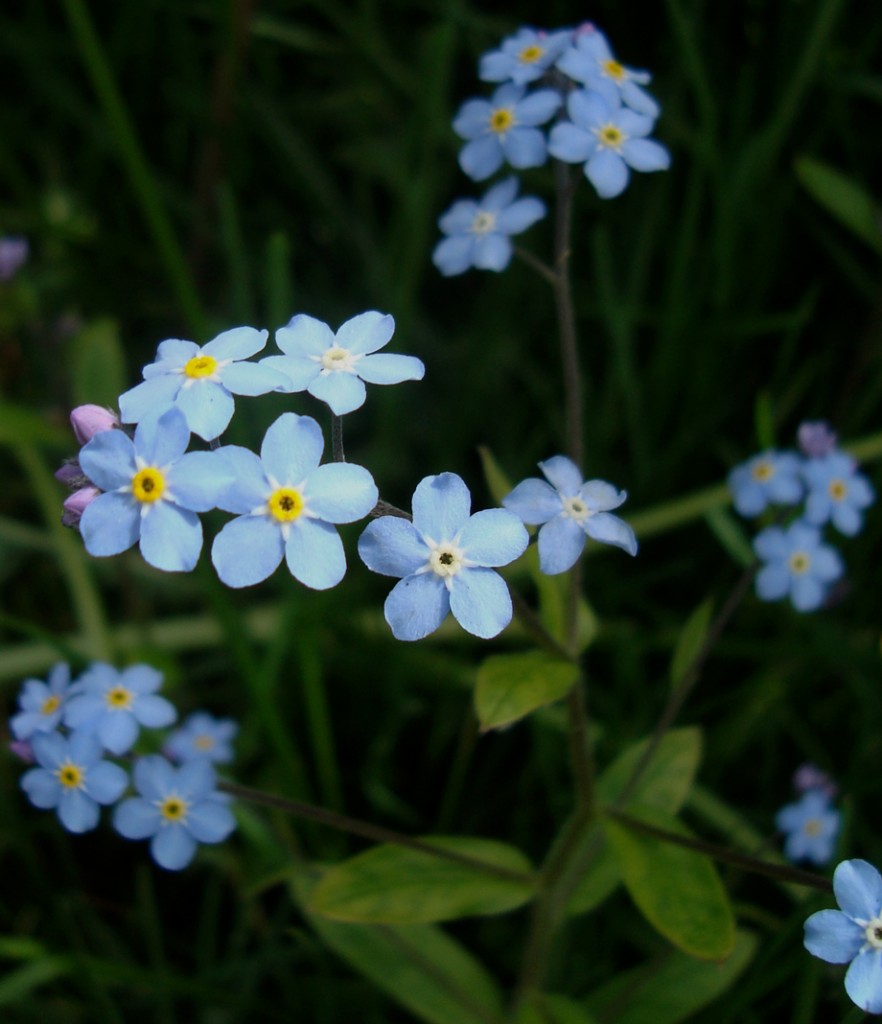 When it came time to do some drafting, I went back to a site I've been taking classes on: Skillshare. It's a site that offers a wide variety of technology and business classes that allow you to learn at your own pace. I've taken several classes there. I particularly like the fact that they use a lot of videos in the classes, and a minimum of text. The classes encourage students to use their own projects to learn with which is another aid to learning. By working on my own projects, I accomplish two tasks at one time – learning and finishing something I need done. It's also a lot more fun to learn while working on something you like rather than a textbook lesson. Here's what I came up with in Illustrator.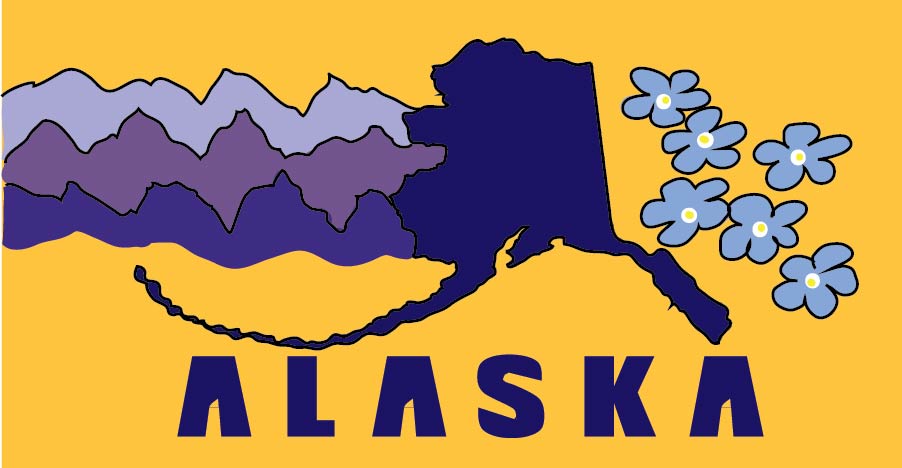 After drawing and drafting I was finally able to start playing with fabric – YAY!! What a gorgeous collection Clothworks provided, making it very easy for me to be able to use fabrics in the exact colors I was looking for.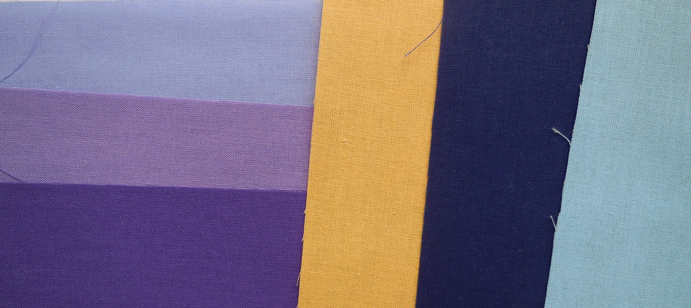 I used the fusible web technique, drawing reverse images onto the paper backing of the Steam-A-Seam and then lightly adhering it to the wrong side of the fabric. After cutting the pieces out, I used a full steam heat setting to permanently set the fabrics. If you are not familiar with the various techniques of applique, I highly recommend Kay Mackenzie at All About Applique and my friend Ruth Blanchet at Academy of Quilting.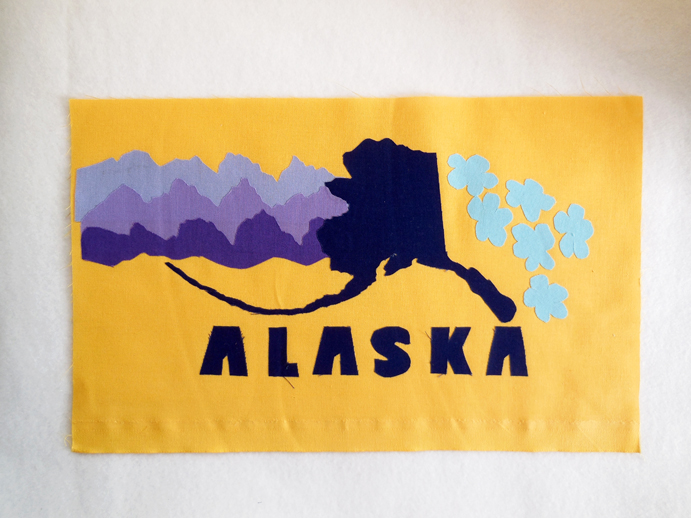 I put a little bit of stitching to hold the Aleutian Islands in place and wanted to embellish the Forget Me Nots with some white and yellow thread, but that's something better done when the block is quilted. If I were quilting this today I would also put some white thread on the tops of the mountains because as late as June this year there was still fresh snow appearing on the mountains around Anchorage. It's been that cold!
So, why did I call it Blue Alaska? If you look at every photo in this project, your will see multiple shades of blue. Alaska, The Last Frontier, has a big clean blue sky, huge clean blue lakes and is surrounded on the south, west and north by blue ocean. Even the icebergs have a blue tint to them. This land is often green, sometimes (for very loooooong periods of time) it's white, but always there's some blue… there's even a Blue King Crab! Tomorrow brings the summer solstice and on a clear mid-summer night the sky in Anchorage is just a dark blue. On the solstice it never really gets dark like it does in the south, just dusky around 2-4am, and then it's daylight again.
For quilters who know me, this little block was just a fun side project. I'm still focused on making, writing about and teaching quilt-as-you-go projects and the one I'm working on now ties right into this "Alaska" blog post – check out the T-Shirt I found in, of all places, Las Vegas! I went scrounging the second-hand shops in both Las Vegas (on my way home) and Anchorage for T-Shirts for project testing. I just had to buy this one! Look for more about T-Shirt quilts from me very soon. If you have always wanted to make a T-shirt quilt, gather them up now and sign up for my newsletter on the sidebar here. If you want to take a class with me, check out my schedule on the Classes & Workshops page here.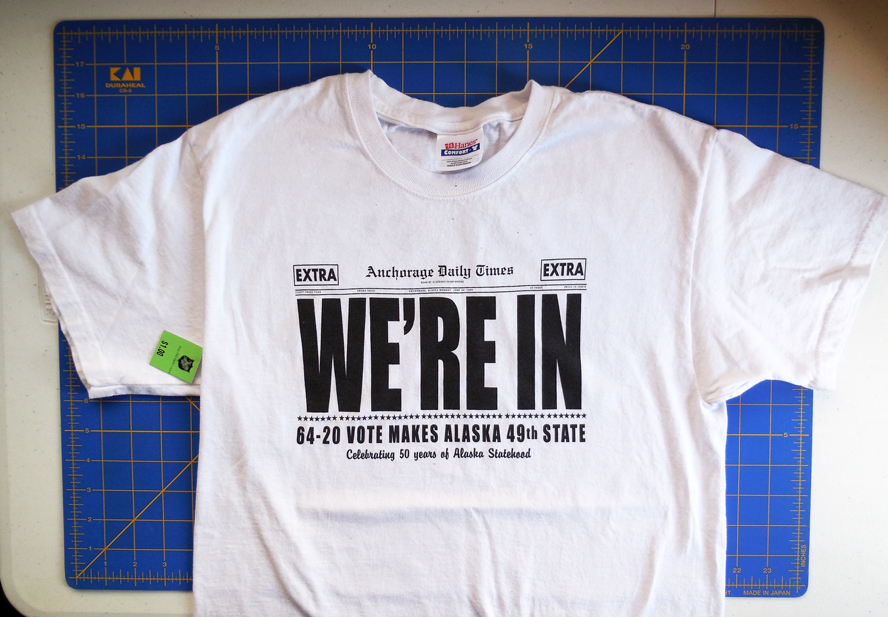 This was a fun blog tour and I've really enjoyed reading about the other states,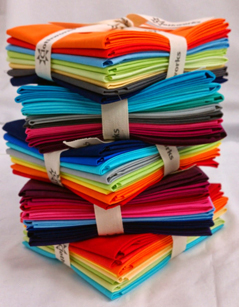 and learning more about the quilters – some I know and some are new to me – and I hope you will too. Take a trip around the USA to visit some very creative quilters and learn about their home states. Many thanks to the folks at Clothworks for inviting me to be part of their wonderful tour and for sponsoring this great giveaway: leave a comment here to be entered to win an 8 Fat Quarter Bundle of American Made Brand fabric from Clothworks – YAY!! To qualify you must live in USA (I'm sorry to my Canadian and International friends). I'll pick a random comment on June 27th and announce the winner then.
Click here for a comment window…..
Download the Alaska License Plate Block Pattern Download
OUR WINNER is Carolyn Boutilier! YAY and Thank you for reading and commenting on my home and my quilt block 🙂 ~Marguerita