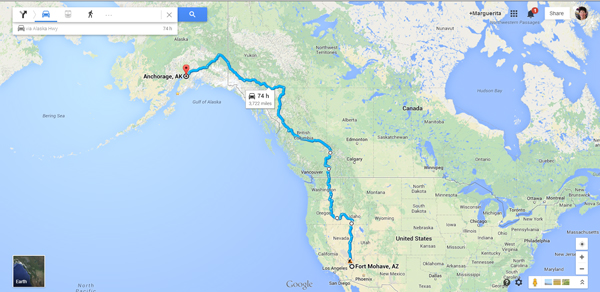 I just finished my spring trip home, to Alaska, and wanted to share some pics with my friends. This was a 3,740 mile trip and I took it in three stages. Just to give you some perspective, this is about the distance of going from San Diego, California to Halifax, Nova Scotia, Canada. Next time I get the urge to drive anywhere, maybe I'll make that trip!
The first 1000 or so miles took me from Fort Mohave, where I spent most of the winter parked at my friends's house – Peter and Barbara Peterson. You can't see it here, but my RV is parked to the left of their house, in an RV parking spot built as part of the home. I am so very, very lucky to have kind friends who generously let me stay with them for so many months 🙂
My stops took me through Las Vegas, for a new windshield and the hassles that Safelite ( 🙁 ) created for me, [there's nothing like having the hood to your engine pop up when driving 65 mph and having a semi coming at you at 75 mph!]. Next on to Alamo, NV to sit out a windstorm that was strong enough to cause a travel advisory warning.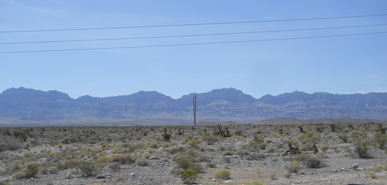 The next day took me to Hagerman, Idaho to a park I just adore where I met a friend I made there last year. I stayed a full day and did some grocery shopping and walking around the town. The next morning we shared travel stories and she gave me RVing tips and blueberries while made us both my favorite sourdough pancakes for breakfast.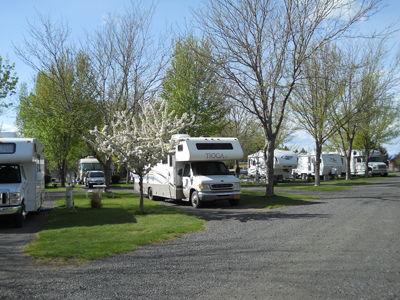 After breakfast, I left for Pendleton, Oregon but first I had to cross the mountains between there and LaGrande, OR. I guessed that there might be snow in the pass because of the temperatures, but was hoping for clear skies. No such luck!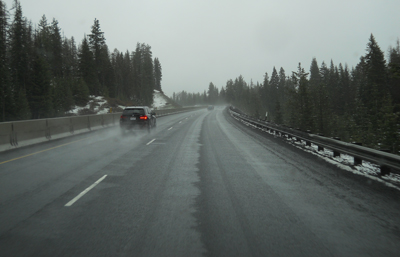 After spending one night in Pendleton I pushed on, but hit gusting wind almost everywhere. I was dreading going through Wenatchee, WA because the gorges have high wind warning signs on the roads normally, so on an already-high-wind day I tried to avoid going that far. But my GPS was no help at all and before I knew it I was in the gorge and surprise of surprises, there was NO wind. I am guessing that the winds were from a different direction that day and that was fine with me. I'd take some buffeting on the road to avoid strong gusts in that gorge!
The GPS torqued me again by refusing to show me how to get to the road I wanted, and I ended up taking a narrow, twisting, steep road with a 14′ tunnel on my way to Chelan, WA. I was SO glad to have planned to stay in Chelan for several days. I needed a break from the snow and wind and the relentless driving – and this was just the first 1,000 miles.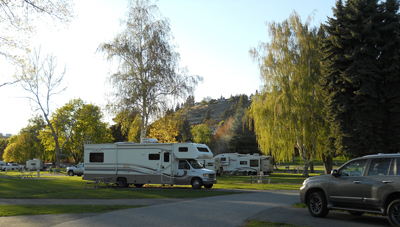 I love the town of Chelan, Washington. It reminds me of Lake Champlain, Vermont and the wonderful memories I have from there. I did my laundry, bought last minute groceries and hiked up the hill to Walmart for some RV supplies. I relaxed and just enjoyed the beautiful surroundings. On April 30th I met up with Millie and Terry Jackson, who let me tag along with them for the next 1,000 miles or so of the trip north. We left Chelan on May 1 and headed for Kamloops, BC but ended up in a town called Barriere, where we had the transient part of the RV park to ourselves.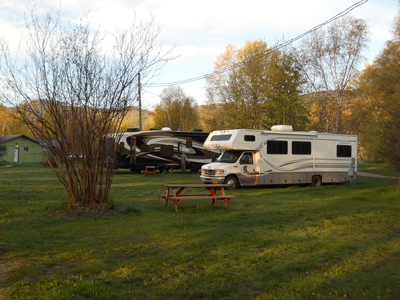 From there we went through Jasper and into Hinton, Alberta. It snowed on us that night, which should have been a clue to the day ahead. Not quite a white out, but snow, sleet and the roads were rutted with ice – my worst driving fears. At one point going down the mountain I had the RV in first gear, going about 10 mph. This is just the beginning, below. After taking that pic I kept both hands on the wheel or one on the wheel and one on the gear lever for downshifting.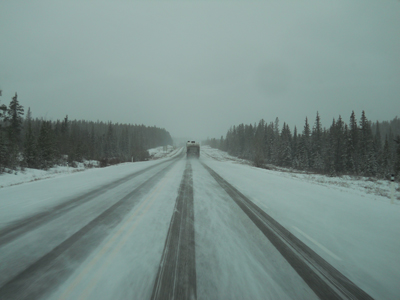 The next day brought us back the sunshine and smooth travels, but also brought us to the end of traveling together. Millie and Terry kept going, but I stayed over in Fort Nelson, BC to visit a friend and take a break from the driving. It was an awesome couple of days, and I let the snow roll on by us while I stayed.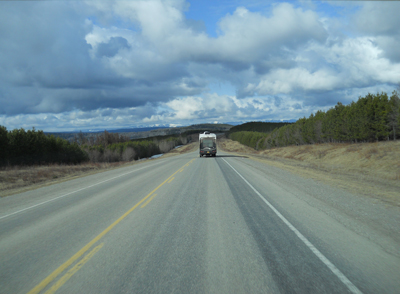 When I left Fort Nelson I felt like I was just around the corner from home! In 1,000 miles I'd cross the border and another 350 miles after that I'd be back in Anchorage – HOME!
Within an hour I was over both Steamboat and Summit and because the roads had weight restrictions on them I pretty much had the highway to myself. Very few semi's and a rare truck or car shared the space. I've never had it so easy, and so gorgeous. Up until then I'd seen few animals, but going over Summit almost guarantees seeing some wildlife – I just didn't want to see any on the road! That, of course, was too much to ask for, so I settled on hoping I'd see them in enough time to stop safely, which I did for the rest of the trip and I'm thankful! Here are the caribou at Summit: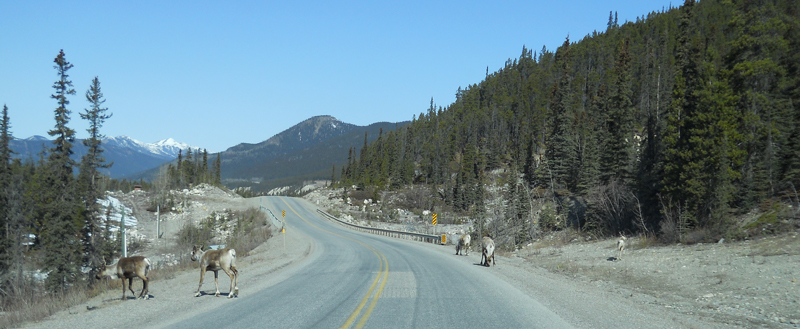 The views are always spectacular, in Alaska and Canada, and I was so lucky to have clear skies!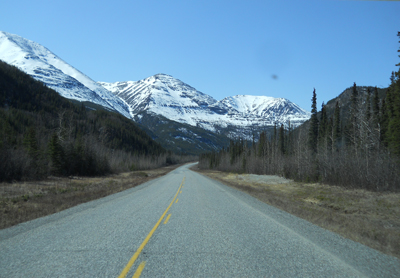 This leg of the trip is definitely the most gorgeous – from the views at Steamboat and Summit, to this view of Muncho Lake and coming up is my favorite place of all.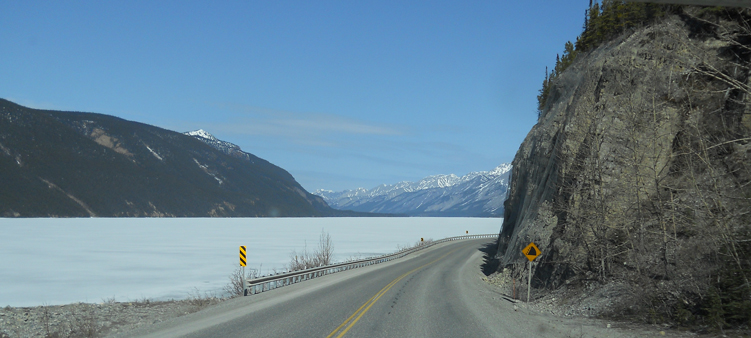 As I wove through forests and mountains, along lakes, rivers and streams, I came upon some goats which I'd never seen before along the AlCan.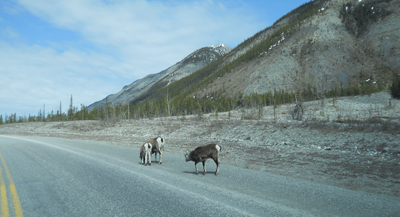 I think it was this view, however, that did me in. I came around the corner and it looked just like the view from Nelchina, Alaska going toward Sutton (about 100 or so miles from Anchorage) and all of the sudden I'd had enough of travel, driving, and transitions. I wanted to be home.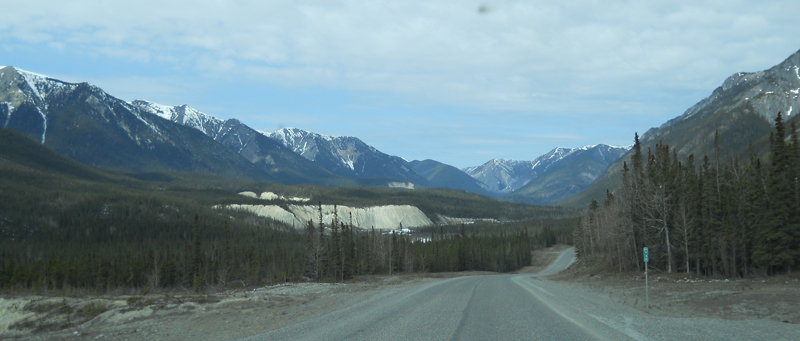 As I was trying to decide where to stop for the night, I just barely caught a pic of this almost full curl ram! I'd seen him ahead and slowed down to a crawl, but still had to grab my camera and turn it on – all with one hand! I was lucky to get this great shot. This guy was just showing off!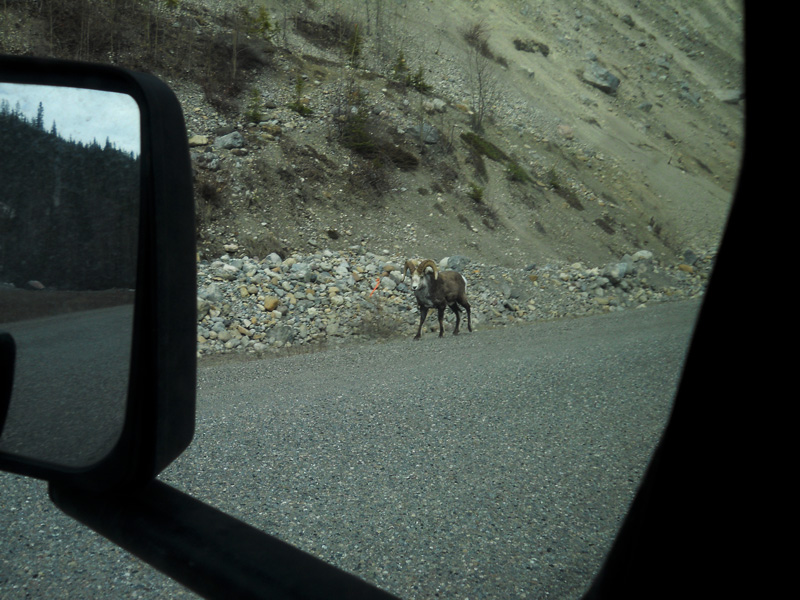 It was coming into Liard that I decided to push on further. I wasn't even tired and I was getting more and more anxious to use the great weather to get closer to Alaska. Liard Hot Springs Campground is a favorite stopping place for me, but not this year. I heard later that the rangers had to kill a black bear that had ransacked the campground that night.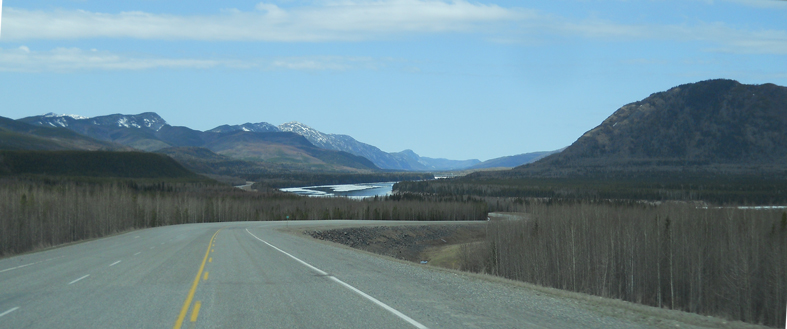 The bison are always hanging around Liard when I travel the road and they are quite a sight. They are the size of a Volkswagen Bug and they move at a snails pace. Of course one bull decided to cross the road just as I was slowly coasting past the heard.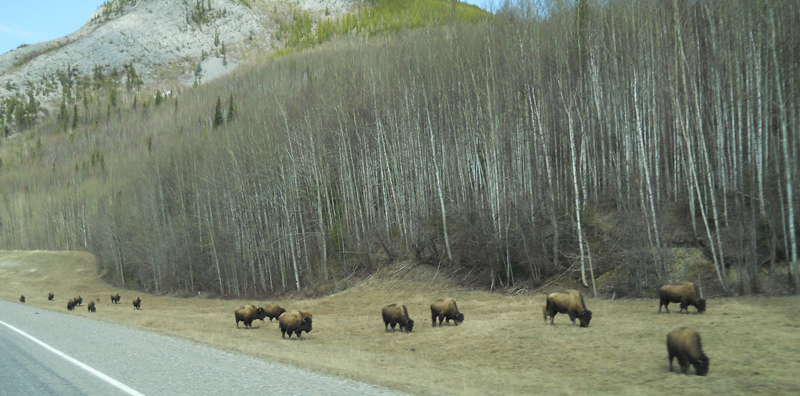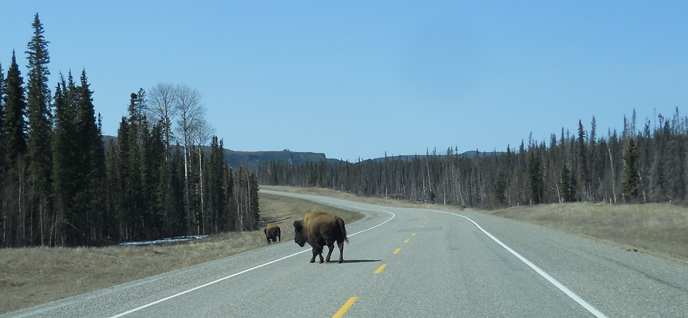 By then I'd decided to drive on to Teslin. I've always wanted to stay there and it was just 500 miles from Fort Nelson. A bit of a long day (most days I'd drive between 300-350 miles) but I'd had an early start, gorgeous weather and I was happy to be closing the gap to Alaska. I just love this view of coming down the mountain and over Teslin River.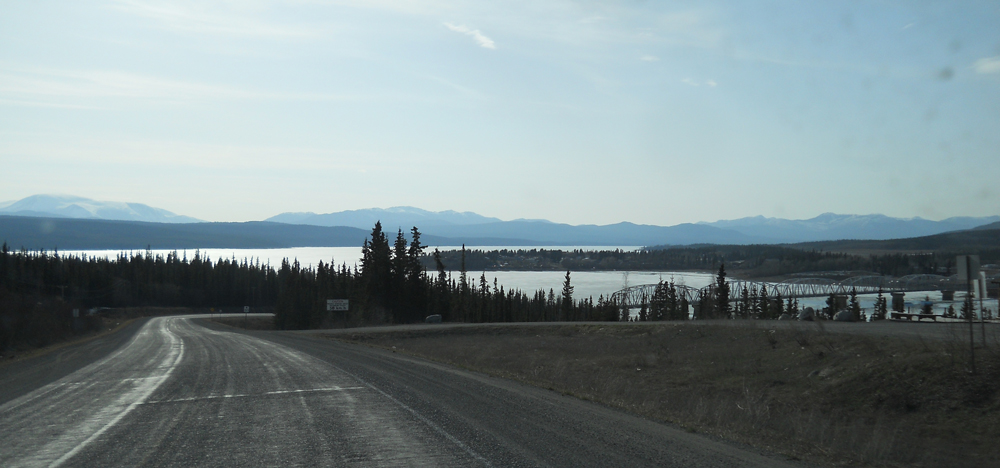 Here's the bridge over the river: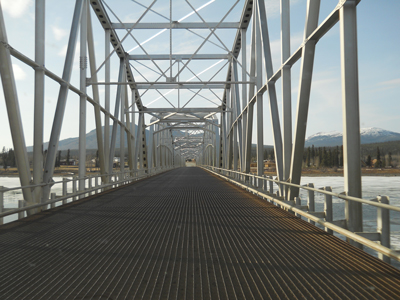 The next day took me to my second favorite place in Canada – Kluane. Kluane is the most beautiful place I've ever seen, but pulling into my friend Shirley's driveway is my number one favorite place now 🙂
When I see this mountain (coming from the south) I know that I'm in for a treat. The lake is spectacular, the views are truly breathtaking and if you ever drive this highway, this spot is the reward. It was iced over for the most part, but in some areas that the ice had broken up the water was emerald green in the sunlight. I really regret not getting a good photo of that.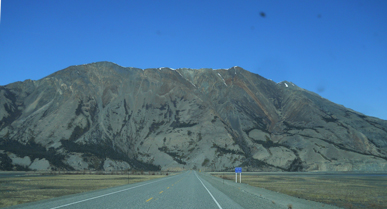 Here's a photo from last fall, as I drove the RV south.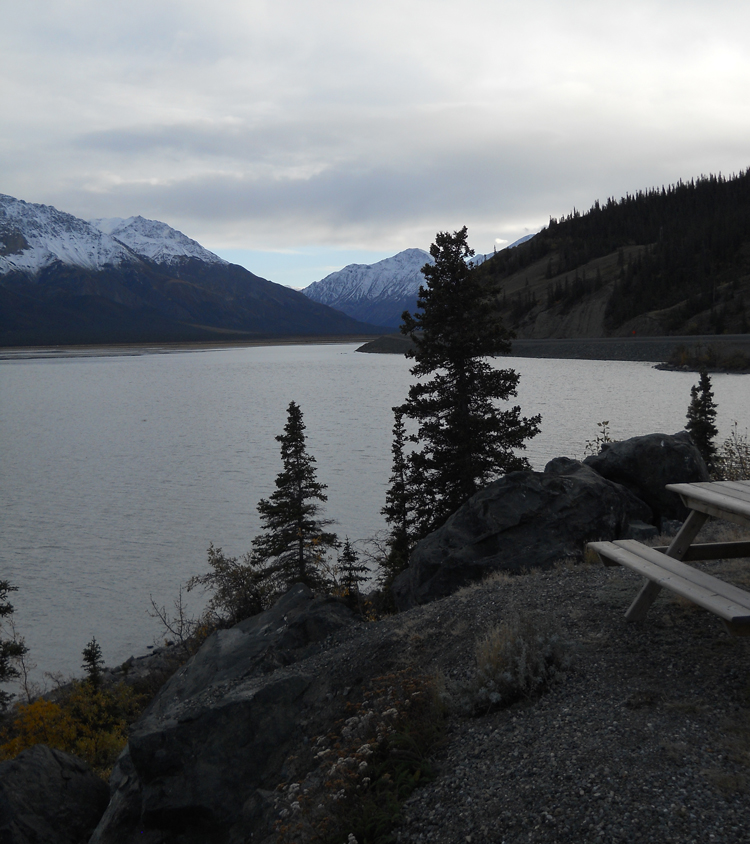 After coming past the end of Kluane and into Burwash, it's all hands on the wheel and eyes on the road – which will tear any vehicle apart if you're not careful. The frost heaves have been known to break shocks, struts and frames, not to mention ruin many other parts of a rig.
The next pic I was able to take was just after clearing customs and coming back into Alaska. The weather was cloudy and the lighting was poor for pictures on the next day, so I'll post some from that area (Glennallen to Anchorage) when I come back from my trip to Valdez in September. By then the fall colors should be stunning.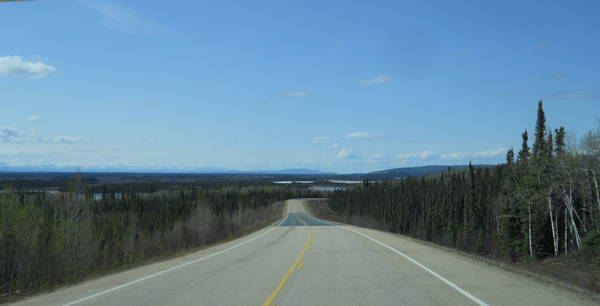 Thanks for coming with me on this trip, I hope you enjoyed it as much as I did!