Oh, I'm in LOVE!
Marilyn (from the UK) sent me this photo of her quilt and the message below: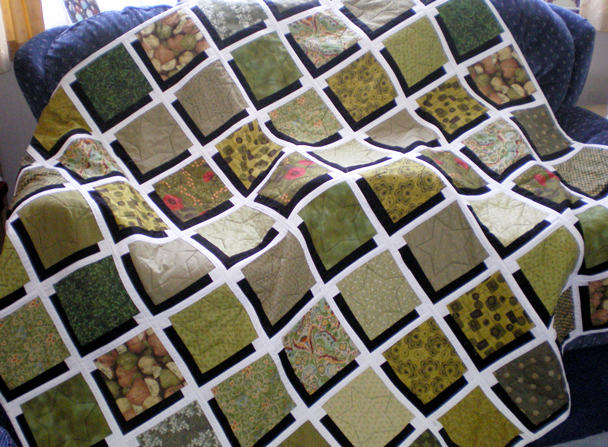 Dear Marguerita,

I bought your book Crazy Shortcut Quilts some time ago, and I love it. I have made several quilts using the ideas in it. I now also have your other books Quilt as you go (Reimagined) and Finish almost any quilt (the day before yesterday was my birthday!), and can't wait to get going.

However, about two years ago after learning your techniques for quilt as you go, I made the quilt in the attached photo. I used a basic block pattern that I saw in a magazine, and adapted the sashing to your methods. I am pleased with it, and recently I posted a photo on a Ravelry forum, and several people there said how much they liked it. As you will see, it is simple, but I think simple quilts can be the most effective sometimes. I hope that you like it.

I found the pattern in a magazine I bought some time ago, called Quilt Mania (no 60). As far as I can judge the magazine is French, although the version I have is in English. All it says about the design I based my quilt on is that it is called "Aussie", comes straight from Australia, and is a Patchwork Studio design. Their version is not "quilt as you go" of course, I adapted that bit as I said before.

I have no idea where I bought the magazine – sorry! and it is quite old, I think 2007.

Marilyn
First of all, I love the big squares of fabric – it really lets the fabric be the center focus of the quilt (green – my favorite colour!). Second, I love, love, love the dropped shadow effect that the black fabric makes. Most of all, I love that Marilyn figured out how to adapt a pattern she liked to make it quilt-as-you-go. THAT is what the book Finish (almost) Any Quilt is about. You can read more about the book here – or buy it on Amazon here.
Hurray Marilyn and thank you for sharing your gorgeous quilt!!