Nina sent me her adaptation of my "Cheap Custom Sewing Table" along with this note: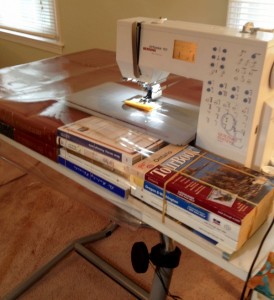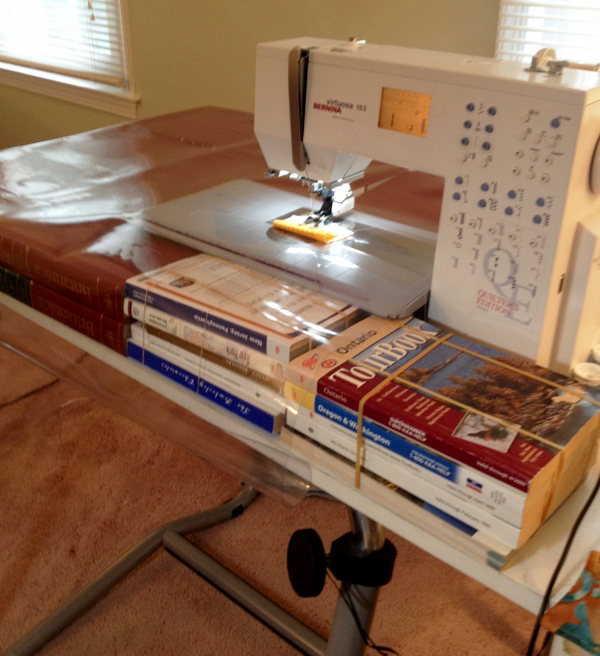 I recently saw your fantastic video on making your own sewing table. I was all set to do as you suggest, the sturdy insulation, etc., when I hit upon another idea.

My son had a set of Enclycopedia Brittannica many moons ago and they were just on a shelf collecting dust. I worked out that stacking them in twos was just the right height for my Bernina.

Who knew??!

I then found some old travel books that work perfectly in front of the machine….. very easy to pull out when changing a bobbin.

So I followed the rest of your tutorial and bought clear vinyl, I believe it is 7mm thick, very sturdy, and
I have my sewing table! I am so thrilled with it.

Thank you so much for your tutorial. It is much better figuring out a workable table rather than wishing for a Koala table that is way$$$$ up there.
If you haven't seen it, I made myself a custom sewing table for about $100. I did this about six years ago, and I even made a series of videos about it. You can watch them by clicking here.
The benefits of having a table like this is the large, flat surface that holds your quilt, yet lets it glide like melted butter. No more struggling as it falls off the edge of your sewing machine bed or small table surface. Every quilter I know who has tried this has raved about it and about how much easier it is to handle their quilt for free motion quilting.
The fun thing is, I take it to quilt shows and it stops people in their tracks: