Cyndi sent me her quilt photos with these notes – aren't they both gorgeous!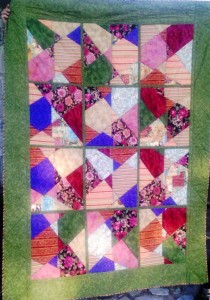 Using the book Shortcuts Crazy Quilts I made this quilt for my mother in law for her birthday.


A year ago she sent me this note along with the photos below. Her color choices are just beautiful and I really like her cut designs in both quilts. Thank you Cyndi for sharing your quilts with me!








This is my first try at making a crazy quilt. I love this technique. I made this for my son for christmas last year. He loved it. I'm currently working on one for my mother in law. I have made several and everyone loves them.