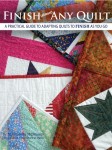 Hi Quilters, my friend and quilt artist Gene Black is having a book giveaway of my new book, Finish (almost) Any Quilt. Gene even wrote up a review of the book, so you can see what he thinks of it 🙂
Gene Black is one of the many quilters who inspired me to write this book. Several years ago he bought our first book, Crazy Shortcut Quilts, and he followed some of the quilt-as-you-go process but, being an artist, he changed it up to suit his style and what he wanted to accomplish with his quilts. Here's another peek.
Quilt artist Mary Couch also changed the process to suit herself on Tanners T-Shirt Quilt and a quilt for her daughter. Mary's daughter's quilt is featured on page 12 of the book – you can peek inside at Amazon.com.
Mary's friend Elizabeth Haines also changed our quilt-as-you-go techniques and her quilt is featured on page 19 of the new book. Elizabeth and I started chatting about changing some measurements in January of last year and she very graciously allowed me to use both her measurements, photograph and her quilt story in my book.
Truthfully, I am in awe of the kindness and creativity of the quilters who have shared their projects with me. I don't know how got so lucky, and I am deeply grateful to everyone who sends me their quilt photos or posts them to their blogs or Facebook.
I hope that you'll click some of the links above (I'll be posting more soon) and see how easy it is to adapt your projects and finish your quilts. My word for 2012 is FINISH and I've still got a lot of projects on the design wall. I'll be posting about them and uploading videos for them as I finish each one.
What are your finishing goals for 2012?