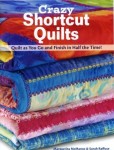 If you have a Prime Membership to Amazon.com you can borrow our book, Crazy Shortcut Quilts, for free!! Download the sample to your Kindle (or Kindle for PC app, or Kindle for iPad app) and you'll be offered the chance to borrow the book – then start reading!! Again – you must have a Prime membership to borrow books from Amazon. Here's your chance to share the book with a friend or view it on your PC or tablet.
I must admit that I bought a Kindle Fire (the new color one) JUST to see how my books look but -WOW- I am enjoying this device!
Do you have an Amazon Fire Tablet?