Ok, I had some setbacks and I didn't finish a quilt, but I have a list of quilters who did!! Hurray for them!
Judy of KS sent this one, Derek's Quilt made with Teenage Ninja Turtle Fabric!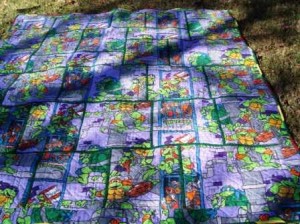 Amanda made these two as Christmas presents:
Sara from Abu Dhabi made a RolyPoly

and Marie Bartels from the Netherlands made this lovely blue and white quilt:
Cheryl in Texas made this lovely Christmas Quilt!