My friend, Judy Wedemeyer, is a fiber artist with an imagination that just leaves me smiling every time and a sense of sharing seen only in people who are happy and secure with themselves.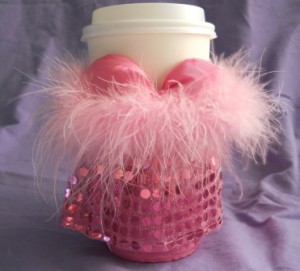 And, just for the record: She started it.
It was a chat conversation, on the internet. I remember that much, and the fact that, even though it was just words on the screen, I was laughing so hard that I had tears in my eyes.
This is MY version of how that went….
She tells me, "we need to come up with a good fundraiser item for Breast Cancer this year." I mentally agree with her, and think to myself that just another pink quilt doesn't quite cut it. I ponder the issue and type, "well, what about those great cup warmers you make? I love those things! Maybe in pink?"
She replys "Boring". Well, then. I try to think harder. More creatively.
"How can we tie those into a Breast Cancer theme?" she sends.
A pause as we both ponder.
"Well. We could put breasts on the cup warmers?" (Quite frankly, I am not sure which of us said it.)
"OMG!" We both cracked up laughing and the conversation went on from there.
It took many months before we were able to sit down together and have a "creative retreat" and make our "Busty Cups" as we had come to call them.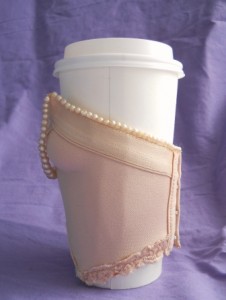 We found out that we'd envisioned a similar result (how many ways can you envision breasts on a cup warmer?) but our methodology was vastly different and we had a blast playing together.
When we'd finished we admired each others' work and agreed to post about it on our blogs and share the idea with a couple of friends.
My friend Margaret Bucklew, of Chiseled In Cloth, went off in her own direction!
We are all donating them to Breast Cancer Awareness/Support Fundraisers.
Both Judy and Margaret have blog posts about making theirs.
Would you like to join us? We'd love to see your creation (this is a LOT of fun for a group of women especially if you find a way to use your creations to raise money to fight breast cancer).
We've put up a free TUTORIAL here with a downloadable pattern and some basic instructions and are letting it all go under a creative commons license. Have fun, have a fundraiser, just don't re-sell or profit financially from the effort 🙂
When I showed mine to my daughter, explaining the process, my granddaughter asked if she could play with the "Lady Cup Dresses" and we both just laughed. I handed them all over to her and she was just a happy little girl, playing with the cup dresses.
I made a short video about the project 🙂
If breast cancer has caused hurt and fear in your family, I hope that you will consider our lighthearted approach of creating something that is fun and artistic and realize that we DO understand the seriousness and grief that this disease causes. We do not mean any disrespect to anyone that the disease has harmed or toward anyone at all and I dearly hope that no one will take offense at our silly little projects.