I am a fabricaholic.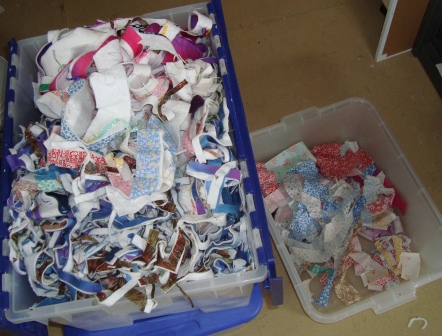 There. I said it.
I can't throw away a single piece of fabric and I've been known to dive into the quilt room waste basket of others to retrieve perfectly good fabric!
I now have about 3 of these big bins of scraps. The trimmings of every Crazy Shortcut Quilt I've ever made including all the ones from the book, plus all the scraps from every other quilt I've ever made too.
I did a big clean up and reorganization this spring because I'll be moving in the fall. Winter and I don't like each other anymore and I'm headed for warmer climes in a few months.
That means, for me, "clean it up, use it up, or give it up" – including the scrap bin. So, I am trimming off the useable fabrics from my "trimmings" bin (and we won't get into what I think is useable – hehehehehe). I want to make a few of those long draft stoppers and I'll use the tiny bits of batting to stuff them with. Maybe I'll make a stuffed animal or two for Audrey. 🙂