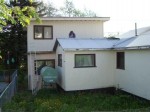 Ever have a project that you've known you had to do but dreaded, for years? Today's the day for the house and for Tom. He's postponed, drafted re-designs, fixed leaks, patched bad areas and finally, today, the roof is coming off and new one going on.
He's been gathering materials for months, cutting wood, ordering tin and other materials, organizing tools and agonizing over the re-design. There's a design flaw which lead to a lot of leaks and frustration for many years and today it is going away!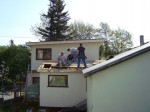 He's got his brother, friend Jeff and Jeff's helper, and all four have been pounding, banging, ripping and destroying the roof for a couple of hours now. I'll take pics as I can, but mostly I am staying outta the way!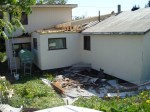 Here's the progress at noon the next day. Some of the new trusses are in place and it's scorching hot outside! They guys are still hard at work 🙂


At the end of day four, the new roof is on and secure, the entire roof is sealed against the weather and all but 5 sheets of metal are in place!