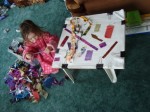 Hehehehe.  A baby and a bucket of fabric scraps.  I'll be picking them up for the next month!  What was I thinking!?
Well, let's just say I was rushing things a bit.  The technique worked well but the materials I chose didn't (not their fault, mine) and the child doesn't quite have the attention span yet for a project this size.  I'll try again, but smaller next time  🙂
We played outside for a while but after I took her home we both came down with colds  🙁  Oh well.  We are on the mend!  As I was leaving Audrey at home with her parents I was cooerced into taking one of Sarah's quilts.  I have no idea why she wants ME to quilt this – she's quilted several in the past few months and done just fine.  Another "oh, well".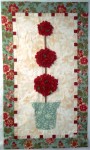 I hope to quilt this (and a few more) and make videos as I quilt them.  I love machine quilting art quilts (maybe that's why she gave it to me to quilt?) and I now have the space to both quilt and take video, so these few that are waiting will be the test.
The red flowers are texured heavily, they are a product of Bella Nonna and Sarah just loves them. She has made several of their quilts. In fact, if you like it I think you should stop by Sarah's Blog and tell her to make a video of her making one! Doesn't that sound like fun?!?