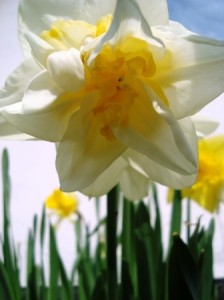 On a long drive home from Anchorage yesterday Tom and I had an interesting conversation. I will admit that being fifty has changed my perspective a bit. We talked about our "bucket list" and I challenged him to make a list (I will too) and we will compare them next weekend. That should be an interesting conversation! I'll keep you posted 🙂
This morning we had a quiet breakfast and then he went to bring flowers from the garden to his mom and I went and cleaned off his grandmother's grave.
I love graveyards, I always have. I like quiet. There's not much quieter than a graveyard. It takes me about an hour to clean her grave and it is contemplation time that I enjoy. Although I live almost every moment being grateful for what I have, right now, and making the very best of it, I become extra grateful when I clean off her grave once or twice a year.
It's a very nice grave, with a marble headstone and full white pebble rock covering (this is what takes so long to clean). I hope she accomplished all the things in life she wished, and was happy with what she'd made of her life and the impression she's left on people. I never met her but I hear great things about her from Tom because she lived with their family as Tom was growing up.